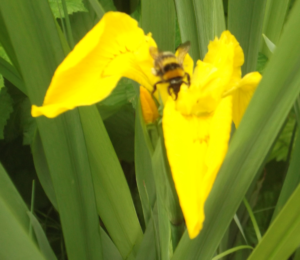 All this recent wet has done great things in the garden, and my yellow flag irises which I grew from seed are finally in full bloom. June has been exceptionally busy this year and is getting busier by the minute. I'm involved in editing two books, and there's another to come, as well as finishing my own new collection – of which more news later in the summer.
The biggest and most imminent event is Expressing the Earth, which is coming up at the end of next week. I'm still writing my talk on Herbs Landscapes and Ways of Knowing (I can talk about it like anything, but this requires organisation, and possibly PowerPoint) collecting illustrations from herbals, and getting stuff printed. I have turned my translation of the Charm of Nine Herbs into an illustrated leaflet and everyone who comes to the conference will get one.
You can have one too! If you sign up to my newsletter, (promise, not too many mailouts) I'll send you one, or you can have a PDF if you'd rather. More than just spamming you about the book, it's got news of a herbs and poetry facebook group this time, and there will be poems and bits of other writing I'm engaged in, as well as readings and all the stuff you would expect. Use the contact form on the new contact page and we're good to go.