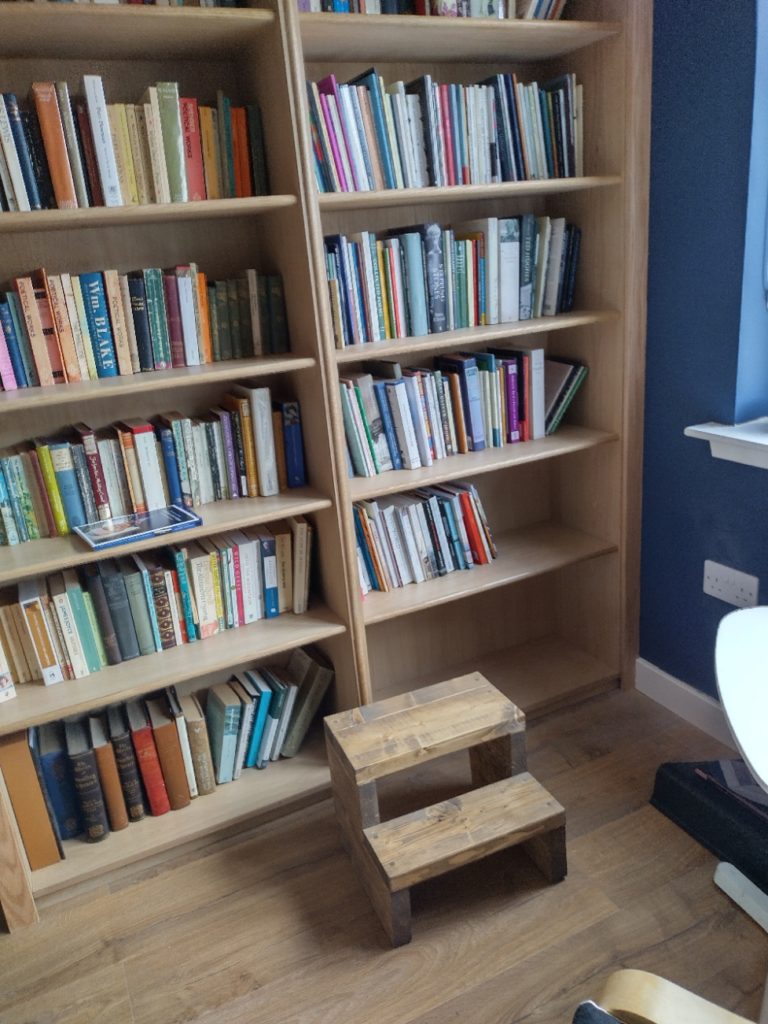 I have a new computer, which is very lovely in many ways, but I am struggling to find the photos I uploaded yesterday, so until I learn the file management system on this beast, there will have to be old photos. This is one of my library, which was set up last year. Although it has a lot of books in it, it is mostly used for a chill out space for those of us who need a break from the chatter when we're all together, and for crafting. Sometimes I feel rather uncomfortable about having so much space and access to books, when some people, especially the younger generation, find themselves struggling with access to resources to support their writing, so I'd like to find a way to share this. If you are a writer who needs to borrow or consult books that I have, let me know and we'll see what can be done.
This is a bit of a distraction from my main intention which was to remind everyone about the poetry event at the Little biggar Festival on 28th October. The Facebook posting reads:
Biggar-based publisher Red Squirrel Press invites you to an afternoon of Red Squirrel Press poets and friends in aid of MacDiarmid's Brownsbank, held in Biggar & Upper Clyde Museum on 28th October.
Featuring some of the best-known names in poetry, WN (Bill) Herbert, Dundee Makar and Professor of Poetry, Sean O'Brien, multi award- winning poet and Emeritus Professor, Colin Will, writer, musician, former Scottish Poetry Library and StAnza International Poetry Festival Chair, award winning Biggar-based poet Lindsay Macgregor, Andrew Forster, poet and literature development worker and was previously Literature Development Officer for Dumfries and Galloway. Elizabeth Rimmer widely-published poet, reviewer and editor, author of four collections from Red Squirrel Press and editor of the eco-poetry discussion website Ceasing Never.
Tickets available from https://www.biggarlittlefestival.com/literature/red-squirrel
There is another upcoming reading in Stirling on 4th November as part of Paperboats Day for Nature, but I will post more about this later when further details are available.
Also, I am sorry to announce that I am going to stop sending out my newsletter. I used Mailchimp, but as the parent company has announced its intention to scrape content in order to train AI, the potential for copyright infringements eems too high to be worth it. I'm looking for alternative ways of keeping in touch, as there are some subscribers who don't follow me elsewhere on social media, but in the meantime, I can be found on BlueSky, (mostly poetry) Mastodon (mostly politics and environmental stuff) and Instagram (herbs, cooking and gardening). That's a lot, and I'll probably refine it as the platforms develop, but that's where I am just now.