The Edinburgh Festivals are all happening again, and it has been lovely to be out and about. This photo is of the Community Gardens on the Meadows where I had the privilege of giving a creative writing workshop. The gardeners are lovely friendly people, and the work produced was very inspiring and exciting, but it was also wonderful to see the garden I've been hearing about so long. There are vegetable beds, fruit bushes, a compost heap, a bug hotel and some deep beds constructed and cared for by a local primary school, seating spaces and a table for shared meals. There are no fences so as to encourage anyone passing to access the space, and even a book swap box.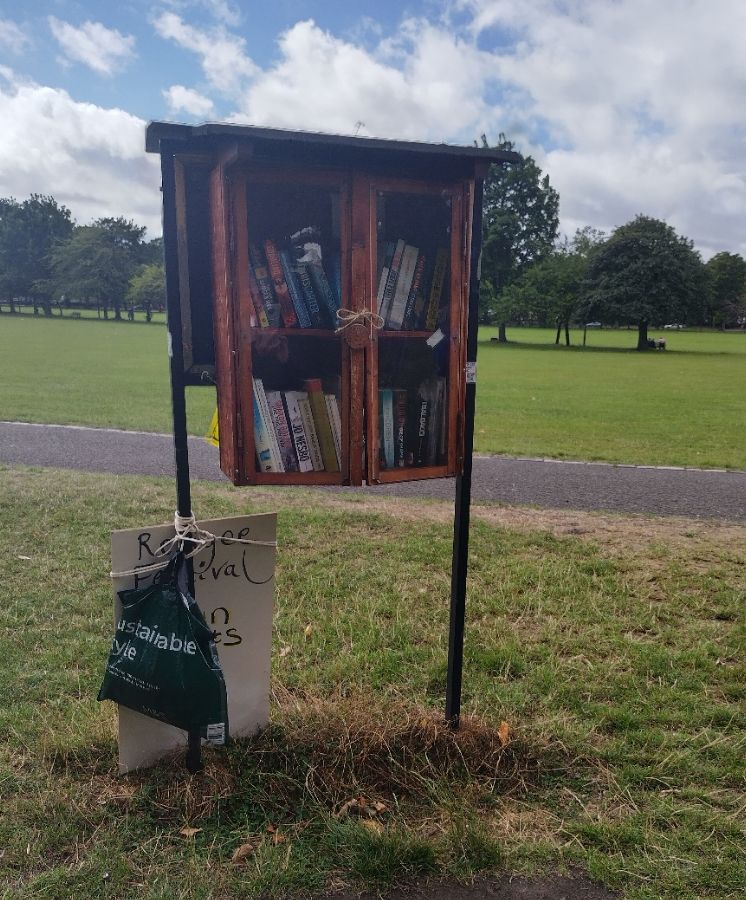 I've been to some book festival events, hearing Ada Limon read from her amazing new collection – she was meant to be there in person, but couldn't, as at the last minute she had to be sworn in as the new Senate Poet Laureate. I had also been to a discussion about it hosted by fellow Squirrel Sam Tongue, and it was a particular thrill to hear Ada Limon read some of the poems we discussed. And then yesterday I had an editorial meeting with a new poet I will be working with in the next few months.
I can't overstate what a delight and joy it was to be able to talk poetry in real life, and I'm very grateful to the people who gave me the opportunities. I'm not sure how they felt about it, though, as I was so excited I overflowed with talk like a shaken lemonade bottle. There needs to be much more of this in my life!
Over the next week I will be at Moniack Mhor and when I came back I will be at the launch of The Earth Is Our Home, an anthology dealing with questions of the climate crisis, war, migration and other issues affecting human inhabitation of the earth. It is edited by Gerry Loose, and the launch will happen at the CCA on Sauchiehall Street Glasgow at 7pm.
Otherwise, I've been reading Don Paterson's The Poem, which is a big deep dive into the mechanism of poetry, but full of the kind of linguistics I tried to escape from as soon as possible, working on a revised and annotated translation of The Charm of Nine Herbs, and assembling some new poems, at last. The garden has been in survival mode lately, but next month there will be bulb planting deep mulching and some rethinking of the borders. I am hoping to start newsletters again, not so often, but more regularly, with advance notice of what's coming up, and some content that is different from this blog, so please sign up via my contact page if you would like to receive it.