In the recent good weather (which seems to have deserted us today) I finally started dyeing again. Here are the pots I was running yesterday, with rhubarb leaf and birch catkins
I was moving on to cotton, which is notoriously more difficult than the wool I'd had so much fun with in the autumn. I cut up an old fitted sheet – which I couldn't get to fit our bed – and scoured it according to instructions, or at least I thought I did. I followed it up with a tanning process, which I learned about here, and mordanting, and finally simmered the cloth in the strained dyepot. The smell was a bit off-putting, but the weather was warm and sunny and I did a bit of useful weeding.
I don't think I did the preparation very well, because the results were a bit uneven.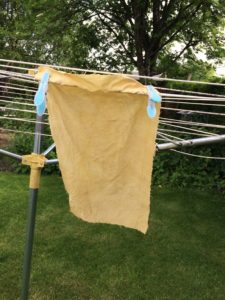 This is the birch catkin cloth, which is a lovely old gold colour, but rather streaky and uneven. The rhubarb leaf didn't take at all, but I added some skeins of wool
and they came up beautifully. The darker one had a slug of iron water added, and the lighter one was as it came.
I've also tried some solar dyeing in the greenhouse. I filled up jars with dandelion heads and nettles with some water, and added prepared skeins of wool. They were left there for a week, until I decided they weren't getting any darker. Here are the results:
They are paler than I expected, but the nettle one is a lovely woody colour, just a bit darker than maple. The dandelion is a very pale primrose shade. There's a jar of red onion skins in the greenhouse cooking now. They have had added iron, and so far it looks as if the wool is going to be a dark grey.
I wasn't going to get so involved in dyeing. I was going to write some colour poems, and wanted the experience of creating colours from my territory, and to understand how the process worked. But then I started to think about using the colours to make different kinds of art, and record the territory in new ways – and then I got distracted by the thought of textile art, and particularly women's work at large. Now I think I'm hooked. There will be many more dye posts, I think. But I hope they'll lead me into new ways of writing, some new poems, and new thoughts about the place where I live and how I live there.