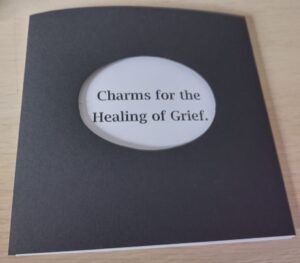 This lovely thing just arrived. It is the booklet of the charm bracelet Hugh Bryden of Roncadora Press made
There are seven charms, all Scottish emblems of healing – the owl, heather, daisy, pine, yarrow, oats and lark, and the charms are based on traditional healing traditions – except perhaps the owl. Often owls are seen as bad luck, but for purposes of my own – and because I like owls! – I have reinterpreted the call of a tawny owl as comforting, as in fact I find it.
It is illustrated by Hugh Bryden who designed the book, and it exists in a limited edition of 100.
I have some copies which I have added to the shop. They are £12, postage and packing free within the UK. Roncadora Press will have more, and I hope to have news of a launch soon.