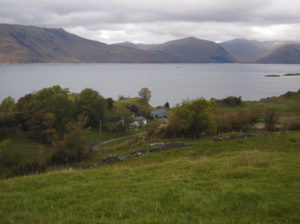 There is absolutely no reason for this picture. I'm not even entirely sure where it is, though the smart money is on Argyll, from our holiday last autumn. But it was the most peaceful picture in my media files, and a bit of peace is hard to come by just now!
Distracted as I have been by family events (some illnesses, a house move – not mine – and our ruby wedding anniversary), two conferences, a lot of editing and getting Haggards out, I did not notice a whole bunch of anthologies with poems of mine in them.
The Brig and Rock Declaimers compiled by Paraig MacNeil this is an anthology of poems written in or about Stirling from the age of William Wallace up to present day poets like Judith Taylor, Richie McCaffery, Roderick Watson and Sally Evans. And one of mine about Cambuskenneth.
The Physic Garden edited by Adam Horowitz. Full of poems about herbs written as part of the Poetica Botanica project at the Ledbury Festival last year.
The Scotia Extremis anthology, derived from the on-line project hosted by Andy Jackson and Brian Johnstone, which will shortly be published by Luath Press – there will be more about this later.
The indefatigable Lesley Traynor has created an anthology from her Women with Fierce Words event during the Edinburgh Festival next year. It has my first published poem, Breaking through Gravel, in it. There will be more about this later too.
the 2017 anthology from The Federation of Writers will have a poem of mine in it, called The Occupation of Poetry. If you read that It's Not Poetry Until We Tell You It Is post, you'll know what that's about! The title of the anthology is still to be confirmed, but the individual proofs will be going out fairly soon.
There are a couple of other things in the pipeline too, but they will have to wait until later in the month, when I'll have news of dates of publication and so on.
It all adds up, doesn't it. I think I'll have to go for a bit of a lie down! Meanwhile, here's a serene looking harvest moon. It was five years ago, and it feels a bit like it!