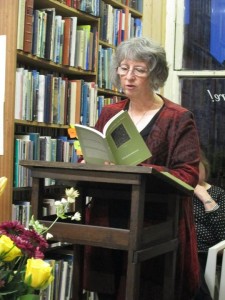 This photo was taken by my friend Edwin Stockdale ( a very promising poet in his own right, whose pamphlet Aventurine was published by Red Squirrel last year), at the launch of The Territory of Rain last Friday. Behind me you can see the shelves of King's Bookshop where the Callander Poetry Weekend takes place, but what you can't see is all the friends (and my eldest daughter and husband) who came and made the occasion the delight it was. Many photos have appeared on facebook since then of all the poets, the music, the Kirk Hall where we read on Saturday, the garden, where we had the last readings on Sunday, but they can't show the kindness, the friendships made and renewed, or the solid foundations laid for new work over the winter.
People have asked where they can get the books, and I have some, which you can buy from me in person or by post (email me with your address – it's £8.99 plus £2 for p+p). Very soon you will be able to get them directly from Red Squirrel Press. I have heard very good things about the Red Squirrel ordering system, though you may feel I am biased!
But it has been a very satisfying week for other reasons too. The results of William Soutar Poetry Competition were announced on the last Saturday of August, and I was delighted to hear that my poem 'Iris' was highly commended. As there were over 300 entries, this was very satisfying to hear, ad I offer my congratulations to the winners. Shortly there will be an e-book with all the winning, commended and shortlisted poems available through the library webpage, so I won't post it here for a while. And then, this:
This is a sculpture by Humphrey Thompson, a friend of my husband's, inspired by the shapes of an orange and its segments. I was very excited to hear that Humphrey has called it 'Curved and Glowing' from a line of one of my poems 'I Said'
I Said

Round and glowing,
curved, I said, and glowing,
sharp and sweet and bitter and hot,
and gold as guineas and sunlight,
and burning, I said, globed and burning
and piercing, pungent, all those words,
and sweet, and fresh, and dripping,
look, and taste, and smell.
All the words I said.
I meant oranges.
Humphrey placed a copy of the poem alongside the piece when it formed part of a group exhibit. I can only say I was honoured to be there.