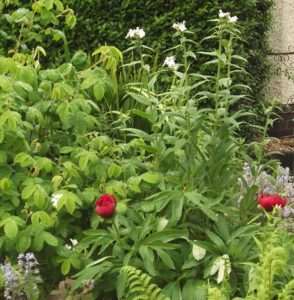 The news should be that we have summer – a whole fortnight, it seems, of glorious sunshine, warmth, swallows and swifts scissoring up the sky. It's only June and already we've had gazpacho four times – here:
But I haven't been idle. There are some new poems, some of which are in exciting places. I hope to have news of an anthology of Edinburgh poems later in the year, but sooner than that, there will be  a pamphlet produced by Marjorie Lofti Gill of work by women responding to this dazzling beauty.
This is MV Fingal, a 'dazzle ship' painted by a group led by artist Chiara Phillips. There will be a community event as part of the Edinburgh Art Festival on the 19th June, which will include a reading of some of the poems we have written. I won't be able to be there myself, unfortunately, but there are about twenty poets included in the project and all the poems I've seen so far are brilliant.
And then there's this:
This is the cover for the new anthology from the Federation of Writers Scotland. It is currently with the printers and copies will be available by the end of June. There is a lot of outstanding work here of all kinds, and also includes my Stand in the Light, which so many people said kind things about when it was first published on And Other Poems.
The back cover reads:
This anthology, the seventh from the Federation of Writers (Scotland), has more than fifty percent greater content than any other year. A massive three hundred and twenty four pages of fascinating fiction, non-fiction and poetry from fifty contributors' works, selected anonymously by our editorial board from members' submissions, plus eighteen  prize-winners from six open international competitions run by the Federation. This reflects the exponential growth of our membership, now almost a thousand, from under two hundred when our first anthology, Catch the Tide, was published with only seventeen contributors' works included.

Readers will find both new and established writers' works within these pages and subjects as wide-ranging as classroom shenanigans and Native American pow wows. If you love a varied literary diet, you'll love this book. It's a veritable feast.
And if that doesn't make you want a copy, I don't know what will!