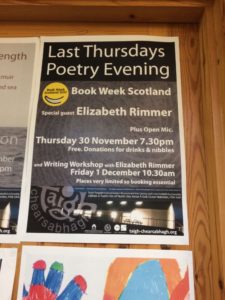 This is where I was last week. It was amazing.
There was a long cold drive to Uig through frost and snow and sometimes blinding sunshine – there was a magnificent rainbow on Skye – and then a quiet crossing to Lochmaddy. The Hamersay House where we were to stay was very pleasant and welcoming, and in fact so was everyone we met.
I like how island communities fit a lot into what looks like a sparse landscape. There are shops that combine post office craft stall and cafe in a building about as big as an average kitchen. Taigh Chearsabagh has three art studios (lovely light rooms overlooking the harbour) where you can do a full art degree and distance learning facilities for degrees in Gaelic and Music as well as more technical studies. It's very child-friendly too – someone told me that her grandchildren found 'their peers are everybody'. It was good to hear Gaelic being spoken too.
But the landscape, though sparse, is beautiful.
I wrote this poem after our first visit (in 2006, I think):
Rushlight
Perhaps at the damp end of a dour day,
when whey-thin clouds clot and curdle
against a washed out sky, and the puny wind
sharpens the rain in my face like teeth,
I might find the rim of a blue lochan
sleeping in the cold lap of the hills, where
water-lilies fold white stars in green cups,
and reeds wade knee-deep, and whisper.
Then if the clouds would open like eyes
and, in the sudden fall of sunlight, a curlew
cry, emptying the air, and the rippled
water blink between the reed-stems –
then I would look, and listen, and grow still.
Then I would know what I came for.
This time there weren't any waterlilies, but the curlews were still there – and there were whooper swans. I wasn't disappointed!
I read Rushlight as the first poem on the Thursday with poems from all three books, and then on Friday we had a workshop. I used lemon balm as a reference (there was a plant and some cookies!) and writing from herbals through the ages about it, showing how differently herbalists have felt about their subjects, and then some writing about landscapes evoked through the plants growing there. Some wonderful writing came out of it – a recollection of traditional healing, including a Gaelic charm, memories of gardens and of learning about plants, a powerful and thought-provoking reminiscence of wild coriander growing in the streets of Bradford, some lovely sensual evocations of the scents of herbs, and some well-expressed thinking about what knowledge might be important to us. It always surprises me how well Schoolish goes down (this poem is coming out in the next issue of WriteAngle, so I can't share it here, but I've read it a bit, so you might know it), but it certainly hit a nerve!
And while I was doing that , my husband was out looking at this:
That is St Kilda, out in the distance.
I must say a big heart-felt thank you to Uist Art Association for inviting me, to Pauline Prior-Pitt who does so much work organising things so excellently, and to everyone who came and listened and wrote and bought books. You were fantastic!