This was the state of play at the start of this project – Culpepper, Gerard, and nothing else avilable between the seventeenth century and the start of the twentieth when Mrs Grieve took on the mantle and revived herbalism as a healing practice – and frankly, for encyclopedic knowledge and scientific accuracy she's hard to beat.
But last week I was in Edinburgh and chanced on the Main Point bookshop. The website is old, and doesn't look as if it's been updated recently, but the shop is still full of interesting and eclectic books, and I found this:
I am not sure there ever was any such book, but this is a loving recreation of the work of two of the earliest botanical artists, Elizabeth Blackwell, whose Curious Herbal was published in two volumes in 1737-1739 and Georg Dionysius Ehret, who worked with many renowned physician and scientists, including Linnaeus. They were sponsored by Christopher Trew (Count Palatine of the Holy Roman Empire) the Head of the Medical Association in Nuremberg. The text of this book is rambling and includes very few dates, considering its purpose, but the illustrations are fabulous, and there is a lot about the founding of the Chelsea Physic Garden, and the development of botany as a branch of science.
Best of all there is a short bibliography where I came across a reference to this: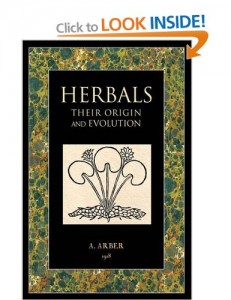 Looks fascinating!