I'm going to try and see as many herb gardens as I can while this project lasts, and I started this weekend with Culross.
It's steeply sloped and terraced, and packed into its small space are herbs, vegetables, fruit bushes and trees, cut flowers, bees and chickens. These are Scottish dumpies – no kidding, it's a real breed, chosen because they are bred to be hardy in this country – and very beautiful – and vocal – they were too.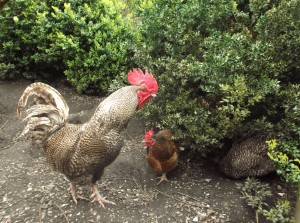 Although Culross is only just up the river from here, the garden is much more sheltered than ours, and everything is just that bit further advanced. This is borage, blooming its heart out, although mine is only just appearing.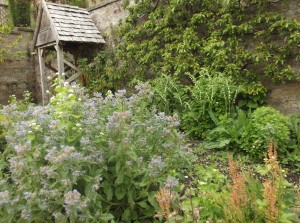 I came away with a lot of ideas – particularly this chamomile lawn, underplanted with tulips and crown imperials and lilies, which add interesting highlights. I might try that next year – though it will be less than a quarter the size, if I do.
I have joined the Herb Society and I will try to visit their garden at Sulgrave Manor, and of course the Chelsea Physic Garden and the American Museum garden at Bath, but I'll be looking out wherever I go for herb gardens to visit.
And the other thing I have just done is that I have joined The Uncivilisation network
which is the online space for people interested in the Dark Mountain Project to continue conversations started on the blog, or in the books or at the events which the founders of the Project so magnificently set up.
In the Dark Mountain group I have found many people who share concerns close to my heart, about art and society and the environment. There are artists, philosophers, film-makers, musicians, plenty poets, farmers, educationalists, conservationists, fiction writers and journalists of all sorts, and people whose crafts and creativity I can't even define. It's a really interesting place to hang out.