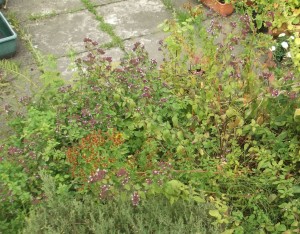 This is the classic oregano in its autumn, bee-bothered splendour. It is tough as old boots, spreads itself around the garden like dandelions and will outcompete almost anything on the plot. But there are several other cultivars, which frankly, I can't keep straight in my head.
This one – the one with the pink flowers and smaller leaves is pot marjoram, – a traditional English herb with a slightly more meaty tang, often used in sausages – and the one with the white flowers is Greek oregano – which was green when I planted it, but this year suddenly grew in with these golden leaves.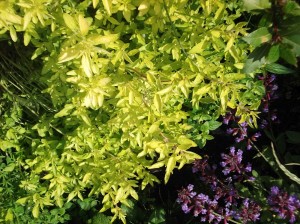 Oregano is 'the pizza herb' to the point of cliche, dries well and gives a southern aromatic tang to almost anything mediterranean, but is especially good with lamb kebabs. Bees love it, to the point where you'd grow it just  to see them crawling all over those pink pincushion flowers like shoppers stocking up for Christmas.
Which is the point, really. When the oregano flowers you know there's not much left of summer, and it's time to think of rosehips, brambles and apples. I'm not sure we'll have a good apple crop this year. Last year's was excellent and I think the trees might be in recovery mode. But I have something I've never managed to harvest before. We have a hazel hedge at the end of our garden, and for the first time, I've harvested two nuts. What will I do with them? At the moment I am just gazing at them in some awe!