Recently I saw a picture on the Facebook page of artist Danielle Barlow called We Carry Our Grandmothers' Ghosts, and it really struck home with me. I'm working on a poem, possibly one of a series about it. I only ever knew one of my grandmothers, because my father's mother died of TB in 1938, when he was twelve. I have seen photographs, and we gathered scraps of information about her from her sister – though we don't know how reliable it was! We didn't even get her name right – we thought of her as Marian – my middle name, but it seems that the name on her certificate was Mary Ann, and she appears in her sister's diaries as Marie.
But I do have this.
which we believe she made. I have seen a school report, in which she is described as 'very tidy' and 'exceptionally good at needlework', and we believe that she was working in a drapers shop when she met my grandfather.
I have been making a replica of this for my sister. The fabric I used is brighter and more intense, but very close to the same shade – I think that's the quality of modern dyes, not just because the original has faded. The stranded cottons, however, are exactly the same shades as Marian used.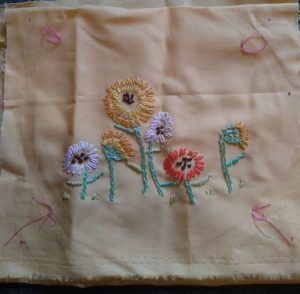 You can see at a glance that my needlework is not exceptional. The differences are more obvious when you see them together:
My design is more squished than Marian's, and I am not good at judging distances – it was discovered only last year that I have a very slight squint so things are not always where I think they are, and I'm going to have to be very much more mathematical and careful with marking and copying when I transfer designs in future.
But the fascinating thing is that both of those designs have the same feel. The deviations from the straight come in the same places, the small aberrations from the ideal are almost exactly the same, as if I carried it in my genes. I feel a bit haunted now.