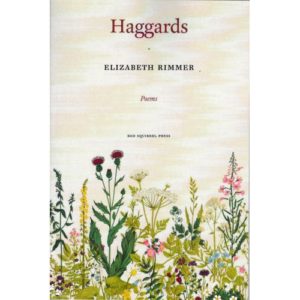 Haggards  to buy a signed copy £10 p&p free. If you don't use PayPal, please email me for an alternative.
This collection began as I thought about how we use herbs as emblems of resistance and resilience, a return to traditional values, health, wildness, authenticity and simplicity of life, connection with the earth and nature, feminine wisdom, and spiritual power, even magic. Poems about ways of knowing emerged, along with disquiet about the transmission and control of knowledge, about access to the countryside, land ownership, and cultural renewal, and about our experiences of political and environmental upheaval and personal tragedy. Haggards plays off the different meanings of the word 'haggard' – wild and untamed, worn by grief and hardship, and the Irish designation for a patch of land, too small to cultivate, granted to peasants to grow their own crops.
Reviews on the cover:
'The things which you learn with your hands, / your tongue, your ears, the glimpses / at the edge of vision, are not the things /we want you to write down,' says Elizabeth Rimmer, who makes her fine writing specifically through these things.

Her poetry is deceptive: its delicate observations of the world around her conceal a sharpness of perception that resides in her poet's eye and imagination, and in her accurate intuitions of what will most add implicit depth to a poem. I'm struck by the collusion of subtlety and surprise in so many of the poems, and also by Rimmer's fine use of metaphor and diction.

She has an unerring sense of when best to introduce a line break, and of the power of a simple but unusual word-choice.

I wouldn't want to choose my favourites, but I have to say that some of the poems about plants (the 'haggards') and trees seem particularly alive to me.

This is a collection I feel privileged to have had a pre-publication view of; already it's taken up residence at the edge of my own vision.

Roselle Angwin

The breadth of both the physical and emotional landscape of Haggards is breathtaking. Whether crafting an intimate, pithy poem about a pebble or tackling an ambitious sequence on social and ecological collapse, Elizabeth Rimmer writes in language that's all at once sensuous, precise and elegant. Themes of resistance, resilience and regeneration in the human and more-than-human worlds are explored throughout the collection, gaining urgency and momentum in 'The Wren in the Ash Tree', the stirring final section. There's no shying away from the anguish of grief and loss, yet Haggards remains an uplifting read, one that celebrates the capacity of woman, bird, seed and herb to survive and thrive 'in the wild and unregarded places in between'.

– Susan Richardson
Maquis
Cicada is the song of the sun,
this metal-grinding electrical
racket, louder than traffic,
and constant. It hammers
the hillsides, greedy, relentless,
seizing the burning day.
Rock is a crucible for silvered
downy leaves, sharp stems,
oils that will suppress
competing growth, the scent
and sudden fires. There's ash
and charcoal, parching thirst.
The hill is stripped by goats,
impoverished by vineyards.
The wine they make,
and honey gathered here
will taste of herbs and limestone,
strength and stubbornness.
Launch picture, from the Scottish Poetry Library, on 10th February

Haggards Elizabeth Rimmer Red Squirrel Press
There is a powerful quietness in these poems and, as we are told on the cover, 'She has an unerring sense of when best to introduce a line break.' And that is such a skill. She may not win the so-called glorious prizes (although I hope she does), here is a collection that truly matters and remains in heart and head long after it is placed back on the shelf marked, 'Recommended'. Tom Kelly