This is my poem Inhabitation. It is about a longhouse owned by the National Trust for Scotland, and if you can't read the text, it begins: This is a longhouse, a hut/knee-deep in damp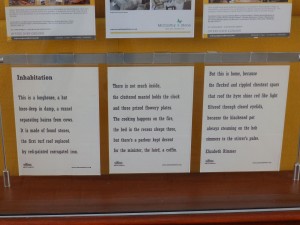 and it is in the window of an estate agent near to several of the venues for what turned out to be an outstanding poetry festival. I know we always say this, but it does seem to get better every year —
If last year was about adventures and experiment, this one turned out to be about the feeling that poetry exists and develops in the body of a community of poets – in conversations, translations, collaborations, influences, integrations and rejections. Often we heard it said that no poet writes in isolation, and no poet is so insignificant, so neglected or forgotten that they have not had an impact on the environment in which we write.
Highlights of this year's festival for me were many – the New Writers Showcase featuring Em Strang, Sam Tongue, Bridget Khursheed and Lindsay McGregor, the poetry breakfast where Clare Best, Andrew McMillan, SJ Fowler, Aase Berg and Justin Stephenson discussed physical and figurative bodies in their poetry, the Five O'clock verses where Andrew McMillan and Fiona Benson read from their prize winning first collections, but there was also the delight of meeting people, some not seen since last year, some known only on facebook. It is a wonderful thing to look round a packed auditorium and find friends in all the rows!
There is much to praise, from the meticulous organisation from Eleanor Livingstone and her team, who keep everything on track, and look so calm and welcoming all the time, to the pies and pastries, the space generously provided for poets to sit and talk or work between events, the books we all bought in greater quantities than we'd promised ourselves before we came – St Andrews is the only place I know where there's empty spaces on the poetry shelves in bookshops, because the poetry all sold out. But this time there are small things that I will always remember with joy
the German introductions to the VERSschmuggel event (and the 'turn off your questionnaires and fill in your phones')
Lemm Sissay's There You Go Again
the gold-streaked pots in the garden of the Preservation Trust Museum
the animation by Justin Stephenson of a poem by bpNicol during the Poetry Breakfast on Saturday
Andrew McMillan's yoga poem
the image of her mother as a snake in Pascal Petit's reading
the creativity of people with the #derangedpoetess stickers (there may be some news about this later on)
the smell of vetiver in the poetry and perfume exhibition
the northern lights seen out of the car window as we went home
Thank you so much to the poets, the team, the venues, and to St Andrews. We had a ball!
See you next year!