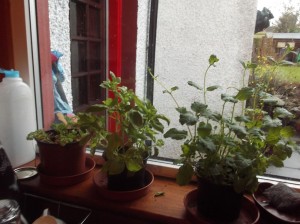 We hit a milestone this week. when I went out this morning it was light for the first time, and although it is cold and wet, and was seriously icy this morning, this is the week that gardening finally got outside.
I've done a bit of clearing, and weeded the world's smallest knot garden. Nothing is looking very bright there yet, (so no photos), but it looks as though all the plants have come through the winter. The southernwood plants are bare and floppy, and I was convinced I'd lost one, but there are buds forming on even the most puny and motheaten, and I have some confidence.
I am not so sure about my lavenders, however. They look as though they have taken a bashing, and though there may well be some regrowth as the weather warms up, I'm convinced I've lost a few. I should have overwintered them in the greenhouse, with the agapanthus and myrtle and some other stuff i got nervous about. Mostly this paid off, and there are signs of new growth on the mint, myrtle and tarragon. I took some cuttings of scented-leaf geraniums and lavender dentata, and most of them are well-rooted. I potted them up yesterday, and they are looking quite perky.
I've also made some thyme disinfectant, which you make by boiling up a lot of the prunings of the thyme currently billowing all  over the steps with plenty of water for about an hour. You get a very sinister brown liquid which smells, but not too strongly, of herbs, and which has a reputation for being useful in combating germs – even MRSA and other troublesome strains of bacteria. This is just in time for some heavy duty spring-cleaning coming up over the next week or two – the disnfectant will keep, in a cold place, for about a month.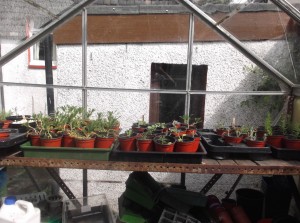 Next week is StAnza, and I will be there for most of it. My head is spinning with all the good things
on offer, which you can discover here, but I'm particularly looking forward to Clare Trevien's Shipwrecked House, a workshop with Gerrie Fellowes about poetry sequences, and a poetry breakfast (which comes with Danish pastries, as if I won't have had a StAndrews breakfast) with Christine de Luca, Kei Miller and others. This is all well and good, but it means I'll be leaving the seed sowing until after I get back. And then garden gardening will begin in earnest.