Okay, it doesn't all look like this. We are in a newbuild housing estate, with construction only just coming to an end, and it's as suburban as you can imagine. But go along the path at the side of the house, follow it round, and you come to this. I imagine that when those leylandii get going you won't even see the farmland, but there's a path up to a ruined castle, a burn, and some very interesting haggard plants between the corporate landscaping.
First you are called/ oldest of herbs – mugwort, according to the Charm of Nine Herbs. It is growing freely on a wild patch of land between the houses. On one side of the path is scorched earth, as if someone has put weed-killer, and might add lawned spaces, but just now there is mugwort, chickweed, nettle and all sorts of good things.
Kate Unwin of The Moon and the Furrow suggested that the disputed atterlathe which I mentioned here, might be this plant, which I found growing against our fence: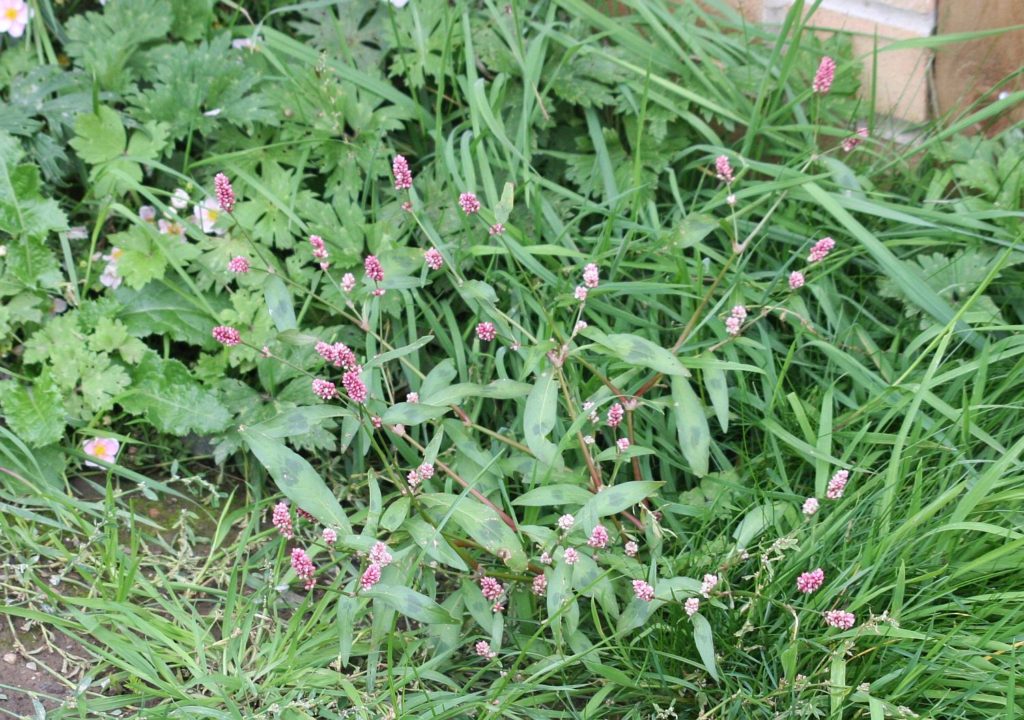 It is called bistort. I'm not quite convinced about the identification – bistort has another Old Englsh name naeddrewort, but it is possible that it was known by several names in different parts of England, or that there were several plants called naeddrewort, or simply that Old English scholars aren't that great at botany. Bistort does have the anti-inflammatory and alterative properties ascribed to atterlathe, and it is a common herb, very plentiful – and on my back doorstep.
The birds in the Place of the Fire are very different – plenty of crows, jackdaws and magpies, lots of starlings, but very few sparrows. I did hear a wren in the haggard on our second day, but although there are plenty of berries, both birds and bees seem to be much scarcer than they were in Stirling. The shape of the garden is more or less fixed, but I will have to do something to make the planting more wildlife-friendly.
We are almost settled here now, after a fortnight. We have unpacked almost half the boxes, and bought kitchen storage and work-spaces. We are going to build a lot more bookshelves next, which will create a library, and a quiet space for chilling out when all the family is together (I am thinking of Tolkein's Hall of Fire in Rivendell now). Two of our grandchildren have visited several times, and the other is coming to stay for half-term tomorrow. The Place of the Fire seems to be more open to the wind than the Territory of Rain, but it hasn't been short of a shower or two since we got here. It is slightly milder and I am just about getting used to the East-West orientation, which means the sun comes up looking directly into my new office.
New poetry has not yet happened here, though I have done some editing and participated in an online reading at Gloucester Poetry Festival. It was enormous fun, though the great Facebook meltdown (and related online disruption) meant we had a very small audience.
Sadly, the great poet (and all-round wonderful person) William Bonar died recently. I was lucky to have the opportunity to go to his funeral last Friday and pay tribute to him, to his gifts as a poet, to his generosity to other writers and to his enormous contribution to the Glasgow poetry group, St Mungo's Mirrorball. He will be much missed.
It will be a week or two before posts on this blog get back to normal, but ideas are beginning to trickle in, especially round the climate conference next month. I look forward to making you more acquainted with the Place of the Fire over the next few months!