This year's StAnza was one of the very best (I always say that, don't I?), no, really, it was. There was the usual mix of good things – excellent poetry, meeting up with friends, the warm welcome, rotten weather, but this time StAnza felt very special. I don't think I did quite as much as usual, but there was time and space to think, and write and generally focus on poetry. This year, I got to think about editing, as two poets I have edited were reading. This is John Bolland whose first collection Fallen Stock, was launched in the Innes Bookshop on Saturday.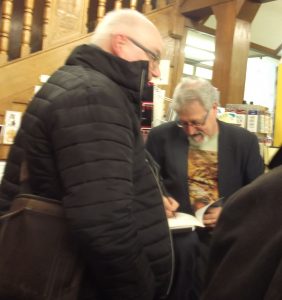 I did get to see a lot of good poets – Menna Elfyn was the standout one for me, and John Burnside, whose work I used to love, and then not so much, seemed back on form with some excellent new work, and a speech that, while it wasn't full of new ideas to many of us, made a rousing and unequivocal assertion of the right and power of poetry to deal with politics. There was a lot about translation, which fascinates me, though I never do as much as I think I am going to, and poets from many different countries – Colombia, Catalonia, the US, Hungary. And poetry in many different forms – plenty of performance, links with music and film, and art.
The artist Nichola Martin had an exhibition in the foyer of the Byre of still life works with literature, which included this one, featuring (right at the bottom) Haggards.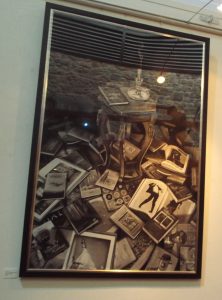 Upstairs in the Byre, artist Lindsay Turk and poet Jon Plunkett held an exhibition of artwork responding to poetry. I had the pleasure of editing this book, and Lindsay's artwork sets it off beautifully. At the Poets' Market on Saturday, sales of this book were brisk, and the entire first print run sold out. A new imprint is being rushed out even as you read this!

I have been to other festivals, but you quickly realise that not every festival is like StAnza! It isn't just the vision, and the wide-ranging scope if the events, but it's the meticulous organisation. Hosting so many events in such a short space of time, accommodating so many poets – and making sure they get where they were supposed to be at the right time is an enormous achievement, but thanks to the staff of the Byre, all the cheerful volunteers and the Herculean efforts and enthusiasm of Eleanor Livingstone and Annie Rutherford, it all flows like clockwork, and there is always an atmosphere of friendly calm and willingness to help. No detail seems to escape them and they remember everybody's name, which would defeat me. We could not be grateful enough for the work they do!