This photograph was taken in early march. Coltsfoot doesn't look like this now, it's more like this: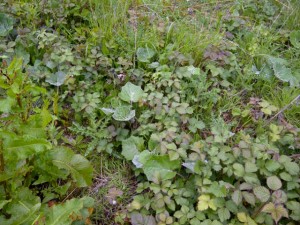 the large rather rubbery leaves coming up through the brambles are what you're looking for. Coltsfoot is one of the earliest flowers to come out in spring, and because the flowers appear before the leaves, it is sometimes known as son-before-the-father. When I first moved to this part of the world, I could not find coltsfoot at all, and thought it might not thrive so far north, but over the past four or five years I have been able to find more and more plants, possibly because more areas are being left to grow wild.
Coltsfoot is not a herb I have used much. It has a long-standing reputation for being helpful for chest complaints, coughs, bronchitis and asthma. Country people used to  dry it and use it as a substitute for tobacco, which can't have been a good idea, though it did smell sweeter than nicotine, and you didn't have to pay tax on it.
When I was small, if our pocket money had run really short, you could buy sticks of coltsfoot rock. It was a strange dull sandy-coloured stick, and had a very strange pungent aromatic taste, quite unlike most of the sweets we used to eat – a little bit like sarsparilla. I think it figured in Old English Spangles, if you are old enough to remember those. Some years ago a local health shop had some on sale, and I almost bought one for the nostalgia – until I remembered the taste!
But I still like to see the coltsfoot come out, because it means that finally winter is over!