Isn't this fabulous? It isn't, needless to say, growing in my garden, but on a path near Ben Ledi, and it wasn't taken this year, but in 2009, but it's what I aspire to! Honeysuckle can be a bit of a thug in a hedge, growing wildly and twining everywhere and choking the life out of anything small and delicate and vulnerable, but it is so beautiful, so wonderfully coloured and so sweetly scented that you'd forgive it anything. Wild honeysuckle is mostly an elegant cream and gold, but this is a cultivar 'serotina' – the late Dutch honeysuckle.
It is in flower for a long time, beginning early in June in the wild, and lasting well into October in my garden. Butterflies like it, and bees, as there is a lot of nectar in those long elegant tubular petals. It is recommended for drying and including in pot pourri, but I've never found that the scent survives. You can steep the flowers in oil for scent, or in syrup to make a soothing remedy for coughs – it was especially recommended for asthma or nervous headaches. However, as it also has a reputation for being an emetic, maybe this advice should be followed with caution. And although birds seem to like them, the berries are definitely poisonous, so beware.
The long stems have been used twisted together to make baskets. In the past I have used them for centrepieces at Christmas, and this year I made a herb dryer from it: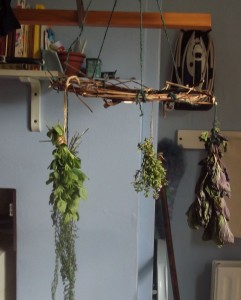 I'm saving acorns and pine cones and other autumnal goodies to spray with gold paint, and then my grand-daughter and I will combine them with holly leaves and pine branches to make a wreath for our Christmas front door.