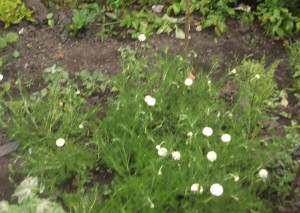 Remember now chamomile * what you made known
what you ordained * at Alford
That no-one should ever * lose his life because of infection
if he had chamomile * with his food.
I've struggled a bit with this one, as I can't imagine cooking with chamomile, but chamomile tea is a great digestive herb, served afterwards as a tea, and has both anti-inflammatory and anti bacterial properties. I knew someone who said she cured an ulcer by drinking chamomile tea, too, so I can imagine it must have saved a few lives in those days.
The official translation of the herb mægðe is mayweed, a common wild plant, but checking with the herbal dictionaries on line, I discovered that, although it is similar to the true chamomile, its chemical components are so much harsher that it has been designated as a poison.I am going with the Roman (true) chamomile, anthemis nobilis, which Grieve identifies as the Saxon 'maythen'.
The place name Alford is a bit of a puzzle too, though there is an apochryphal reference to the Decrees at Alford, alleged to be when Christ left his apostles significant teachings – including this. Pagans also claim that this is the lore of Woden; I am not sure that contemporary herbalists made much distinction between their sacred sources!