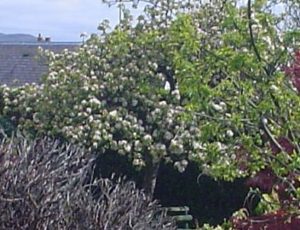 I live in a village which keeps the last remnants of ancient monastic orchards, and we still have a lot of fruit trees. When I first came here, 'plundering'  was a regular amusement for boys from across the river, and you would find dropped apples on the bridge wherever some irate gardener had chased them. In the last year or two, a local group has planted a community orchard, and it is nice to think we are continuing an old tradition.
This is the plant * called crab apple
A seal sent this * over the sea-waves
for the healing * of alien infections.
These nine prevail * against the nine plagues.
A worm came creeping * a man slaughtered it.
Then Woden took * nine herbs of wonder.
He cut the adder * into nine pieces
apple and illness * fought it out
so that illness would never * abide in his house.
Nine herbs for the nine plagues, and at last a bit of genuine magic and paganism. Two lines later, however, we are back into the Christian references. It all reminds me of the man in the saga who was a Christian but invoked Thor during thunderstorms and in times of stress.
Too sour for munching from the tree, crab-apples have been used for cider and vinegar, and in jelly. The vinegar is often used as an anti-inflammatory, for the treatment of arthritis and gout, and a gargle with cider vinegar will often help a sore throat. Apples are also comforting to upset stomachs, strengthening the liver and digestion. They were often mixed with spices to add to the effect, and for a while their scent was believed to dispel infections.