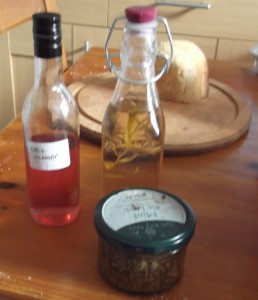 Mugwort, plantain which lives facing the sun, lambscress, burdock,chamomile, nettle, crab apple thyme and fennel
a salve for keeping thus: chop the leaves finely and mix with the apple pulp and a salve base.
a plaster or fomentation – make a paste of water and ash, and mix the fennel with oil and beaten egg. You can use a salve before and after.
Sing this charm three times over the herbs before you work them, and also over the apple. Sing it over the patient, (both mouth and ears) and over the wound each time you apply the salve.
This part involves more than average guesswork, as the text seems more than a little garbled. You will note that it is prose and not poetry for what it's worth, and also that this bit substitutes lambscress for houseleek. Perhaps this is a substitution the scribe made because houseleek was less available locally, but the word is 'lombescyrse', so this is not just a best guess. The word for crabapple is different too, 'wudusuræppel' rather than 'wergulu', so the prose addition may have been made in a different part of the country from the poetry. This may explain the Odin and Christian references too – we are looking at an amalgamated text.
I am interested in the singing. In later monastic practice, time was measured in the length of time it takes to say prayers, and it may be that singing the charm was the same sort of thing. But in the light of the religious references, perhaps we can guess that to the Saxons, just as physical healing was also a redemptive act, and not just a metaphor for salvation, spiritual healing brought genuine comfort and strength, and was not just a placebo.