News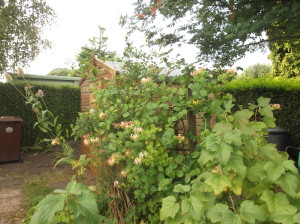 This blog hasn't been getting too much love lately, because I have been so busy. There are several anthologies in the works, including one for the rather beautiful Corbenic Poetry Path. I don't have a poem on it yet, but it is on the way, and the poem in question, Ivy, from Wherever We Live Now, is going to be in the anthology. Jon Plunkett, the creator of the path is a very fine poet in his own right, but this lovely combination of poetry and landscape is absolutely outstanding.
Then, I posted about this project earlier
https://www.poetry-festival.co.uk/poetica-botanica/
and I'm delighted to say that I'll be reading my poem, Melissa Officinalis, at this event, as part of Ledbury's Poetry Festival. It's one of a sequence called Herbs for the Three Musics, which I'm hoping will form a significant part of my next collection. The three musics are the three modes of music in Celtic tradition, summed up in the ballad Orfeo as 'the notes of joy', 'the notes of noy' (i.e. sorrow or pain) and the notes of healing. Melissa, or lemon balm, is well note for lifting depression, so it will fall under the notes of joy, which tradition says are so merry that no-one who hears it can resist dancing.
Saturday 9 July
Poetica Botanica: Making Words from Healing Herbs with Adam Horovitz
Saturday 9 July |  11am–12noon | The Walled Garden | Free
Herefordshire poet in residence Adam Horovitz was commissioned to write 'February in the
Physic Garden' at Hellens, Much Marcle. This inspired the Poetica Botanica. Contributors will
read their poems at this delightful event.