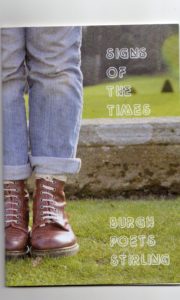 This is a project I've been keeping quiet about until the time was right – and here it is! A book of poems inspired by signs and notices.
The Burgh Poets are a group of poets who meet in the Burgh Coffee House in Stirling once a month, George Colkitto, Sally Evans, Neil Leadbeater, Helen McLaren, Ann Murray and me. Through the last year, which, though full of excitement and new experiences and happy things, has been a very difficult year for me personally, the Burgh poets have met for coffee and to write, and sometimes it was the only new writing I was able to do. At least four of the poems in Haggards were written there, as well as the five that are in this collection, and I'm not sure how I'd have got things done without them. This is my chance to thank them for their support and friendship.
So this weekend, we are launching the pamphlet at the Callander Poetry Weekend, which starts tomorrow, the 1st September and runs until Sunday afternoon. There will be eighty poets there, music and films and discussion and food, and a lot of washing up.
And among other wonderful things, the launch of the long-awaited first full collection by Judith Taylor, Not in Nightingale Country. It is published by Red Squirrel Press with a fabulous cover by Gerry Cambridge.
Signs of the Times costs £3, and you can buy it from any of the poets after this weekend – I'll add it to the site next week so you can buy it from me online, should you wish to – and you will be able to hear the Burgh Poets read from it on National Poetry Day 28th September at St Ninian's Library, the Mayfield Centre Stirling at 12:30.