When your day looks like this! I keep planning to start the gardening, clearing leaves where the primroses are coming through starting the first seeds and mulching ground for new plantings, but not yet, not yet —
Though the sun is shining and a lot of the snow is melting now, it wasn't happening this morning when I went out at seven o'clock. The best bit of being the first out, though, is that you can see where the fox came up the street. It isn't all gloom however –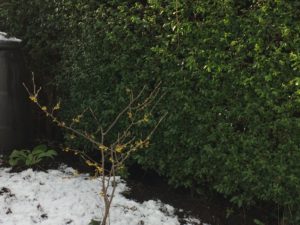 this witch hazel is good to go, and in the sheltered corners, the first snowdrops are peeping through the green, there are fat buds on the camellia, and look –
fully open hazel catkins, blazing in the sunshine.
I have been very busy editing proofs, and Haggards has gone to the printer. I've been giving the website a good pruning and reorganisation – it has been getting quite unwieldy, with all the different activities I've been involved in. It will have a new look soon, thanks to my lovely webmaster, but in the short term, I've been adding new events to the news page. I do hope that I will see many of you at one or another of them. The first is in Falkirk, as part of the One Weekend in Falkirk Event, on Friday 26th January at the Gin Lounge, (above the Wine Library) Princes Street, Falkirk.
The year's editing is about to start, too. The submissions for Stravaig 6 have come in, and we will soon be selecting some of the outstanding work that was inspired by Expressing the Earth conference convened by The Scottish Centre for Geopoetics in June. It's looking very promising!