Here we are, Cora Greenhill and me, just after the reading at the Writers in the Bath event Cora organises every month in the Bath Hotel in Sheffield. The room is small ( but some of the best events are in small rooms – the bookshop in Callander, and Platform Poetry in Ladybank spring to mind), and the audience was warm and friendly – and full of talented poets.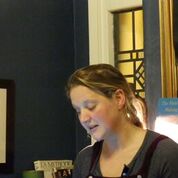 This is Claire Carter, who may not be so well known as a poet, but who will certainly soon be very well-known as a film-maker, as her debut film, Operation Moffat received a Special Jury Mention at the Banff Mountain Film Competition. Her poetry is highly finished, complex, allusive and visual, and based in landscape, because she is a cyclist as well as a mountain climber. It seems unbelievable that she is as yet unpublished.
Here are poets from Derbyshire Stanza, (from left to right) Linda Gould, Cora Greenhill and Alison Riley, about to read from their anthology, A Place of Wonder,  (published by Templar Poetry). The group has spent two years writing poems based in the twelve distinct areas of Derbyshire and has produced a book that will be cherished by anyone who knows and loves the county.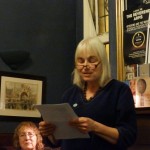 This is Sally Goldsmith, a singer-songwriter and broadcaster, who writes songs and poems and radio pieces about the history and people of the Peak District.
It was a delight to be in such company and to find that the English poetry scene has room for the diversity and the groundedness in local areas and communities I take for granted here in Scotland. By this I don't mean simply 'accessibility' (for which many people read, disparagingly, 'amateur') or 'folk' poetry (for which people may also read 'nostalgia'), but a high-quality, living and versatile response to the life of a region, beyond the merely local history and dialect, that resolutely demands more from poetry than can be reached by the more academic works of the mainstream publishers.
I should not have been so surprised, however, since I heard Liz Berry read from her outstanding Black Country at the end of October (published by Chatto and Windus, and, quite rightly, garnering a whole raft of awards). Poetry does seem to be alive and well, and finding new ways and places to grow.
Thank you to everyone who was at the Bath last week, the poets and listeners, the lovely people who bought books, and especially to Cora, who fills the room with her warmth and enthusiasm.