We have been to Scarborough with all our family, four children, and two grand-daughters – it was hard work, but fun. We had a lovely house with enough space for everyone to spread out, and we had great weather – most of the time!
But now we are back and my truanting has caught me out. Everything is lush and overgrown and needs dead-heading, cutting back, pruning, potting on, propagating or harvesting.
Some things haven't done too badly. The chamomile lawn is bulking up nicely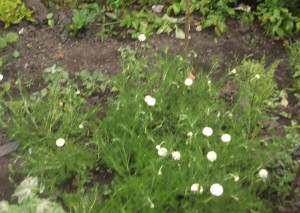 and the cold frame looks rather good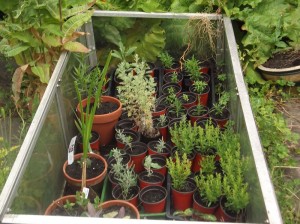 and I took three cuttings from the Atlas Mountain mint, which have rooted very quickly
But there's a whole heap of work waiting for me. I have been taking cuttings and drying herbs as they come into flower, and making a rose pot pourri, but I also took a dander up to the black Isle to see the wonderful herb nursery at Poyntzfield. It's a wonderful place, full of bees and butterflies and an enormous variety of herbs, medicinal, culinary, aromatic, all grown by biodynamic methods.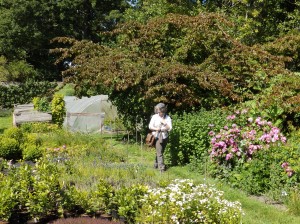 I succumbed, of course I did. And now I have a calamus (a fragrant rush) a roman wormwood and a genuine Florentine orris plant to look after as well! It's a good job the weather is so benign – I'm going to need it!